Tuesday's Topics For March 3, 2020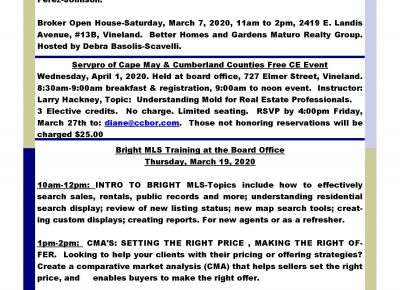 CUMBERLAND COUNT Y BOARD OF
REALTORS®
727 Elmer Street
Vineland, NJ 08360
TUESDAY'S TOPICS
WEEKLY NEWS REPORT
March 3, 2020
Bright MLS Training at the Board Office
Thursday, March 19, 2020
10am-12pm: INTRO TO BRIGHT MLS-Topics include how to effectively search sales, rentals, public records and more; understanding residential search display; review of new listing status; new map search tools; creat-ing custom displays; creating reports. For new agents or as a refresher.
1pm-2pm: CMA'S: SETTING THE RIGHT PRICE , MAKING THE RIGHT OF-FER. Looking to help your clients with their pricing or offering strategies? Create a comparative market analysis (CMA) that helps sellers set the right price, and enables buyers to make the right offer.
Register at: https://support.brightmls.com/s/training
Servpro of Cape May & Cumberland Counties Free CE Event
Wednesday, April 1, 2020. Held at board office, 727 Elmer Street, Vineland. 8:30am-9:00am breakfast & registration, 9:00am to noon event. Instructor: Larry Hackney, Topic: Understanding Mold for Real Estate Professionals.
3 Elective credits. No charge. Limited seating. RSVP by 4:00pm Friday, March 27th to: diane@ccbor.com. Those not honoring reservations will be charged $25.00
NJ REALTORS Education Foundational 2020 Scholarship Applications
NJ REALTORS Educational Foundational 2020 Scholarship Applications are available and due by April 9, 2020 5:00PM EST. For application and more information go to: https://www.njrealtorsef.com/
Broker Open House-Saturday, March 7, 2020, 10am to 2pm, 335 Montrose Street, Vineland. Exit Homestead Realty Professionals. Hosted by Lydia Perez-Johnson.
Broker Open House-Saturday, March 7, 2020, 11am to 2pm, 2419 E. Landis Avenue, #13B, Vineland. Better Homes and Gardens Maturo Realty Group. Hosted by Debra Basolis-Scavelli.